Central PA Tasting Trail Passport

Central Pennsylvania Convention & Visitors Bureau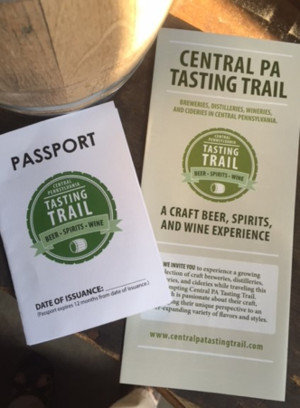 Our Price: $35.00
*Please note: Passports ordered online are sent via U.S. Mail from State College, PA and require 2-5 days for processing. Please order your Passports as early as possible to ensure the quickest turnaround time.

The Central Pennsylvania Tasting Trail consists of 12 craft beverage producers* in Centre County, PA: 4 microbreweries, 4 wineries, 2 distilleries, and 2 cideries. All the trail members are excited to share their process and their products, and so have created the Tasting Trail Passport.

The Passport is your invitation to a unique tasting experience. Every passport holder will receive a free gift or free tasting (whichever the participating member has chosen to offer) at each member's venue when they bring their passport to be stamped. Have your passport stamped at all 12 member venues within one year of your passport's date of issuance and you will receive a beautiful, high quality Central Pennsylvania Tasting Trail hooded sweatshirt to commemorate your journey -- a sweatshirt that you cannot buy but have to earn. All you need to do is mail your completed passport to the Central Pennsylvania Convention and Visitors' Bureau with your personal information page completely filled out and your sweatshirt will arrive on your doorstep.

Passport holders must be 21 years of age or older to participate, and only one passport per visitor is permitted. Passport only valid once Date of Issue is filled in, and valid for one year from that date.

*participating trail members: Barrel 21 Distilling & Dining, Big Spring Spirits, Elk Creek Caf & Aleworks, Good Intent Cidery, Happy Valley Brewing Company, Happy Valley Vineyard & Winery, Keewaydin Cider Mill, Mt. Nittany Vineyard, Otto's Pub & Brewery, Robin Hood Brewing Company, Seven Mountains Winery, & University Wine Company.
For more information or to download the map, visit centralpatastingtrail.com.